Christmas Cookie Exchange
We're proud to announce - Cookie Exchange at St.Leo's Church Hall(227 South Exeter Street)
Saturday December 15,2018 12:30-3:30
Bring 5 Dozen Cookies to Exchange and 1 Dozen Cookies to taste.
Light Refreshments will be served.
---
---
Rev. Oreste Pandola Adult Learning Center at
St. Leo's School
914 Stiles Street

---
---
---
Chef Nino Germano of La Scala Resturant and Rosalie Ranieri at the Sicilian Pasta Dishes Course.
---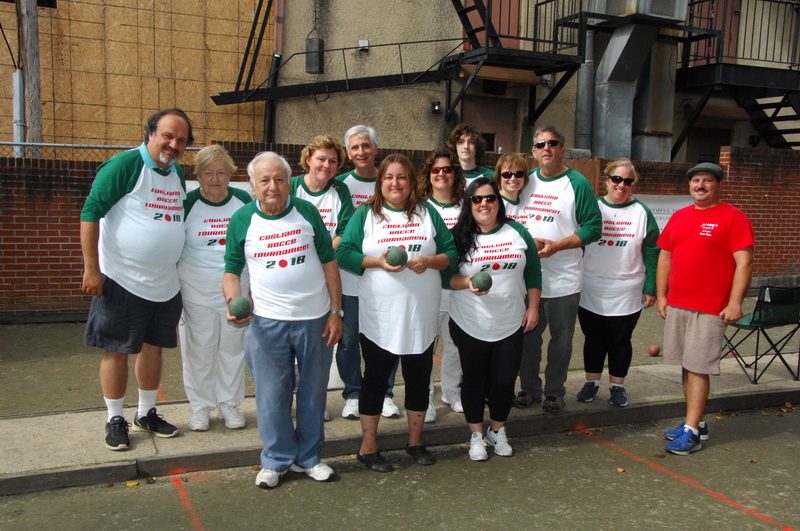 Photo Credit Tom Scilipoti
The Reverend Oreste Pandola Learning Center was so proud to host a very special day for the Cogliano Family of Severa Park, Maryland.
After taking Bocce lessons at our Center last spring, Mrs. Janet and Mr. Joe though it would be a very unique way to have a reunion, celebrate their Italian heritage and culture, and enjoy delicious food. After consulting with family members from various states, Mrs. Janet contacted us to begin plans for a date in the fall. On Saturday, September 22, twelve family members arrived at our Center ready to participate in a great experience.
Teams were devised, instruction initiated, and play began on the courts for the first two hours. Lunch was delivered by Mr. Joseph Gardella of Joe Benny's of our Little Italy Community, and it was thoroughly enjoyed by our team members. After resting, eating, relaxing with family members, play resumed. After several games, the family members express thanks and appreciation for a fantastic day.
This day would not have been possible without the dedicated support of our staff and volunteers. Appreciation must be given to Mr. P. J. O'Neil for substituting as instructor for this day. He conducted amazing lessons. Our regular volunteer teachers, Fran Blattermann and Frank Corazza were unable to participate. Fran did help with opening the office and providing assistance. Special "Grazie" to the heart of our Center, Tony Walmsley for his hard work and service throughout the day and the entire school sessions.
Rosalie Ranieri, Principal
---
---
Enjoy attending sessions in Baltimore's historic Little Italy.
For information call 410.866.8494

Layout and Design Copyright © 2017 by Thom LaCosta
All Rights Reserved
Vist the Thom Lacosta Site
Site hosted by TLCHOST.NET