Rev. Oreste Pandola Adult Learning Center
at
St. Leo's School
914 Stiles Street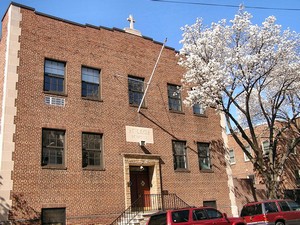 ---
Dear Students and Staff,
Please read the following e-mail received yesterday concerning the illness of our dear friend and outstanding, devoted, dedicated, and most caring member of our staff- Mark Tosti. We wish him God speed on his journey to full health.
Please mail your best wishes to his home and his family will take them to the hospital. Please send prayers and positive thoughts which mean so much when you are ill.
Friday, September 22, 2017 at 10:08 AM
My Dearest friends and family, my mom and dad wanted me to send a special message to everyone.  Some of you already know and most of you don't but we have been going through alot the past few weeks. My brother Mark (who Many of you know), was losing his vision in his right eye, and to make a a long story very very short, Mark had a 10 hour brain surgery yesterday to remove a tumor near his optic nerve which was surrounded by thousands of blood vessels, the pituitary and main artery into his brain. I wouldn't want Mark to have this surgery anywhere else than UMMC, where I worked for many years and still have wonderful relationships with many great doctors and friends there.
It has been an emotional rollercoaster for all of us, especially Mark. He is currently sedated and still in the PACU post anesthesia care unit and will be moved to ICU sometime today. He has a long road ahead and has no clue of the outpour of concern and love so many have for him near and far! He was supposed be in Italy on Tuesday for 3 weeks and all he worried about was going with my parents again and our cousins from here, he didn't want to disappoint but we told him to take care of himself and we would all go next year!
The tumor is benign, but they will still have to radiate the area for 6 weeks. My mom, dad, brother Nando, sister-in-law Judy, niece Alise Tosti and nephew Leo and MY ROCK Lori Parker thank you so much for your thoughts, prayers and concerns! Mark asked us to keep this private until we knew everything but my mom at 87 just called me and said
"Vic, go on that Facebook thing and let everyone know we love them and thank them". So I'm on this "Facebook thing" lol letting everyone know. We are heading down this afternoon again, and will all get through this but a long road to recovery.
Vic Tosti
Address:
Mr. Mark Tosti
8305 Bon Air Road
Parkville, MD 21234
As updates are sent, I will place them on our site.
Thanks Rosalie!!!
---
Join our Mailing List for Updates
Facebook members - Join our group
Please visit our booth and book sale at the Feast of Saint Anthony - June 10-11, 2017 in the basement of Saint Leo's Church in Little Italy.
---
Enjoy attending sessions in Baltimore's historic Little Italy.
For information call 410.866.8494

---